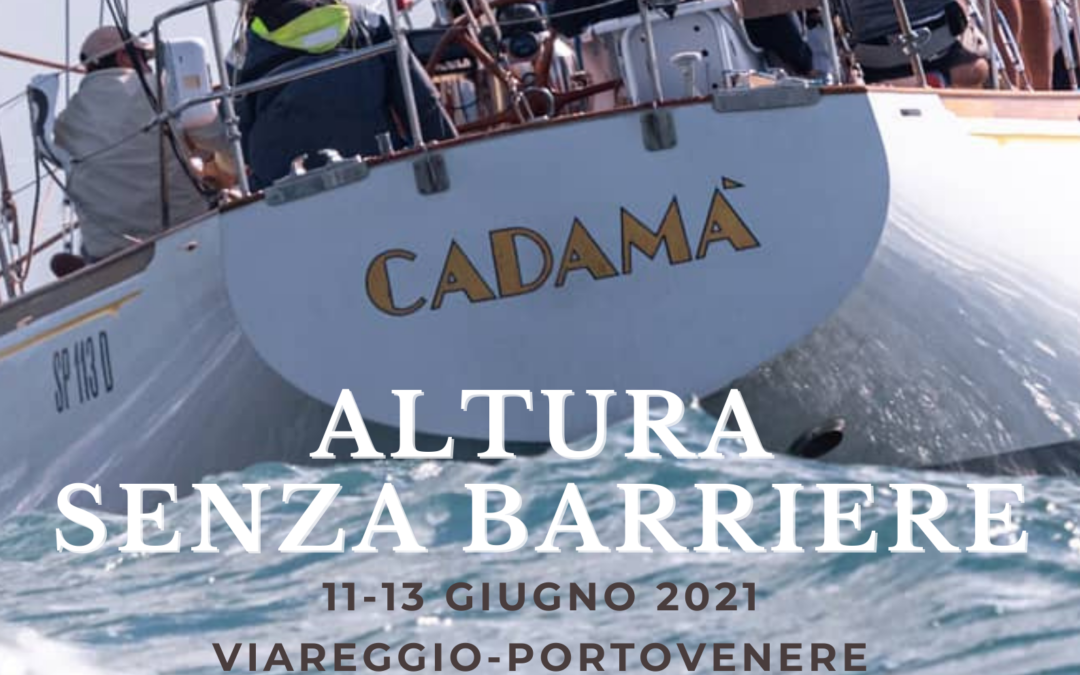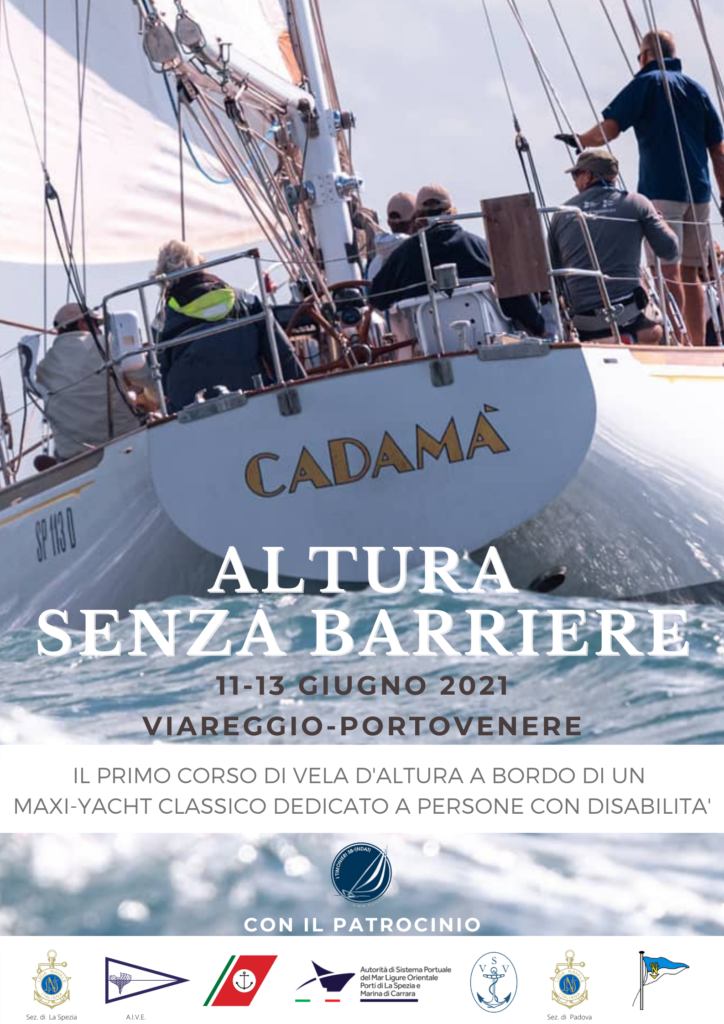 ALTURA SENZA BARRIERE –OPEN WATERS WITH NO BARRIERS
Il primo corso di altura a bordo di un Maxi-Yacht Classico dedicato alle persone con disabilità motorie

Dal 11 al 13 Giugno S/Y Cadamà ed l'a.s.d I Timonieri Sbandati organizzano il primo corso al mondo di vela d'altura per persone con disabilità su un yacht classico.
Dopo un primo approccio alla barca ed alla gestione della sicurezza a bordo, otto allievi con disabilità diverse salperanno dal porto della città di Viareggio alla volta della splendida Portovenere dove pernotteranno per poi rientrare il giorno seguente. Durante i due giorni di navigazione scuola, sotto l'esperta supervisione di istruttori federali, si alterneranno nei diversi ruoli e manovre di bordo imparando le basi della navigazione d'altura.
Obiettivi del corso sono l'insegnamento della sicurezza in mare, della marineria e dello sport velico come arricchimento personale ed esperienza di gruppo oltre all'autonomia come base per l'autostima. Infine è nostra intenzione preparare nuovi allievi per l'equipaggio di regata di Cadamà.
Varata nel 1971 su progetto di Laurent Giles, Cadamà è un un legno classico di 22 metri armato a ketch reso dal suo attuale armatore completamente accessibile e vivibile per le persone in seggiola a rotelle. E' il primo Maxi classico al mondo a regatare con un equipaggio misto di persone con disabilità e normodotati ed insieme all'associazione I Timonieri Sbandati ha fatto dell'amore per il mare, per lo sport, per l'avventura e l'emozione i valori fondanti nella lotta a tutte le barriere, mentali e fisiche.
S/Y Cadamà e I Timonieri Sbandati sono fieri di condividere questa prima edizione del progetto con la Capitaneria di Porto di Viareggio che chi ci dona il suo supporto logistico per l'ormeggio e con la Guardia Costiera che ci onora del suo patrocinio; con il Comune di Viareggio, casa della nostra associazione e con il nostro partner di sempre, la Sezione di Padova della Lega Navale Italiana da cui molti di noi provvengono.
Infine ringraziamo di cuore la Sezione della Lega Navale Italiana di La Spezia per il generoso supporto logistico a terra per i nostri speciali allievi. Con loro un sentito ringraziamento per il loro fondamentale patrocinio va al Club Nautico Versilia da sempre al nostro fianco, le Vele Storiche di Viareggio, A.I.V.E. (Associazione Italiana Vele d'Epoca) e l'Autorità Portuale di La Spezia che insieme al patrocinio ci ha garantito l'ormeggio accessibile a Le Grazie
The first Open Sea Sailing Camp on board of a Classic Maxi-Yacht dedicated to people with a moving impairment

starting on friday June 11th to evening of sunday 13th S/Y Cadamà and the association I Timonieri Sbandati will host the first ever open seas sailing camp dedicated to people with moving disabilities onboard a classic maxi-yacht
After a first visit to the yacht and learning the main concepts for onboard safety, eight alumns will set sails from Viareggio to the beautiful Portovenere where they'll spend the night before returning to the port of origin. While under sail the alumns will take turns at the different roles aboard and learn the basics of open seas navigation under the watchful expertise of two federal instructors.
Main objectives of the sailing camp are the teaching of safety at sea, seafaring and the sport of sailing as a personal enrichment and group experience together with self-reliance as a starting point for self-esteem. Lastly we aim to grow new members for S/Y Cadamà regattas team.
Launched in 1971 on a Laurent Giles project, S/Y Cadamà is a classic 72 ft (22 meters) Marconi ketch made fully accessible and "livable" for people on wheelchairs. It's the first Maxi to race with a mixed crew of standing and seated persons and together with I Timonieri Sbandati has made Love for the Sea, for the Sport of Sailing and Adventure our founding values in the battle against barriers, both phisical and mental
S/Y Cadamà and I Timonieri Sbandati are proud to share their project with Capitaneria di Porto di Viareggio providing us with logistical support and berthing and with with the Coast Guard granting us the honour of their patronage; with the City of Viareggio, home to our association and with our staunch partner Padova section of Lega Navale Italiana, of which the majority of us is a member.
A special, heartfelt thank you is reserved to La Spezia section of Lega Navale Italiana for their patronage and lodging support for our special alumns. With them our thanks for their patronage goes to Club Nautico Versilia, always by our side, Vele Storiche Viareggio, A.I.V.E. (Italian Classic Vessels Association) and Port Authority of La Spezia that together with their patronage has granted us wheelchair accessible berthing in Le Grazie di Portovenere.