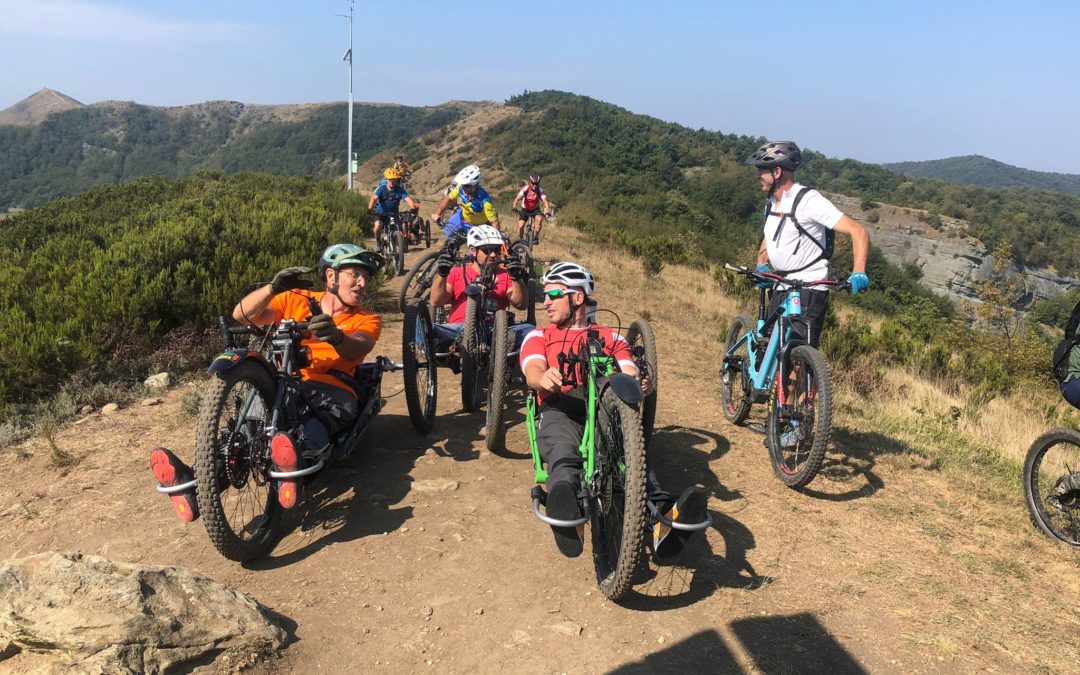 Even if no one knew it, it's been the perfect birthday present! A fantastic ride with friends along dirt roads and trails in Valle Scrivia, Liguria ( Italy ) September 2021
Anche se non lo sapeva nessuno, è stato il regalo di compleanno perfetto! Un giro fantastico tra gli sterrati e i sentieri intorno alla Valle Scrivia, a cavallo tra Liguria e Piemonte. Grazie a tutti gli amici che lo hanno reso possibile!
There's not much to say, I simply love every single moment I can spend away from the city. It's always been so, from a wheelchair it's just a bit harder but my handmtb is one more huge step toward fun and wellbeing.  The day started with me being my usual disabled self, couldn't find the meeting location and ended up being late…. but by evening I collected one flat tyre, one nice flip over, sore arms, lots of focaccia and loads of fun. What a great day!
Non c'è molto da dire, da bravo milanese ho sempre amato levarmi dalla città ad ogni minima occasione. E' così da sempre, con la cadrega è un po' più complicato logisticamente ma la mia Hand-mtb è un altro passo enorme nella direzione del divertimento e del benessere, sia fico che mentale! La giornata è incominciata con il mio solito essere diversamente pirla, abbastanza da non riuscire a trovare il luogo dell'appuntamento ed arrivare in ritardo… però per sera mi sono rifatto Ho collezionato una bella ruota bucata, un cappottamento geniale, braccia doloranti, una vagonata di Focaccia di Recco ( tutta colpa di Vittorio, ovvio! ) e veramente una marea di divertimento. Che giornata memorabile, grazie ragazzi!